Clean and easy-to-read fonts are important for any great design. You'll want to attract readers or customers with an interesting style, but if your fonts are too small or cramped, your product is more likely to be ignored.
But how do you find the right font for every project? The default computer fonts are usually very bland or totally outlandish. But if you're looking for the perfect happy medium, then we've got the resources for you.
Find the perfect downloadable font for every occasion using one of these awesome websites.
Where to Find Downloadable Fonts
Whether you want to up your website's cool factor or create your own personal logo, the right font can make a world of difference. You might also find fancy text generators helpful in your quest for the perfect look.
1. 1001 Fonts
1001 Fonts lives up to its name, offering 1001 font files that you can download for free. All you need to do is enter your text and select the right size and color. Many of their fonts are even free for commercial use, so you can use them anywhere.
2. Fenotype
Fenotype creates professional-looking fonts within seconds without requiring any prior coding knowledge. Choose from cool effects like pencil shading or 127 others. However, this tool is not free, and prices vary by font. Visit their website for specific pricing information.
3. My Fonts
With over 130,000 available fonts, MyFonts is still growing. Offering the largest selection of professional fonts for any project, you can purchase eye-catching fonts that might mean the difference between being just any other brand or getting noticed.
4. Dafont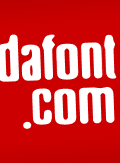 Dafont has an archive of fonts that can be downloaded for free. You can browse by alphabetical listing, style, author, or popularity. The site also offers helpful instructions for installing fonts so you can download with ease.
5. UrbanFonts
UrbanFonts provides access to both free and paid fonts. Styles include brush, computer, comic, futuristic, and more. You can browse alphabetically, by category, or scan through all 2,402 pages for one that catches your eye!
6. Font Squirrel
Font Squirrel is your source for hand-picked, high-quality, commercial-use fonts. The best part? All of the fonts on their site are free! However, note that Font Squirrel might send you elsewhere for some of the more in demand fonts, which might not be free on other sites.
7. FontSpace
With 52,000 fonts to choose from, FontSpace can help you find the best font for your design. Browse by alphabet, style, designer, popularity, or random picks to find your perfect font match.
8. Befonts
Befonts gives creatives access to high-quality design resources for free, while allowing customers to download and test out their fonts before buying them. It's a win-win!
9. Font Zone
FontZone offers over 50,000 free fonts to enhance your creative work. Whether you're designing an invitation, a company poster, or a banner for your next event, you can find a font you love by browsing popular themes.
10. Font Bundles
Offering both paid and free fonts, Font Bundles is a great resource for any creative who wants to step up their designs. Font Bundles occasionally offers deals for up to 90% off bundled fonts, which can be perfect for companies focused on creating new designs.
Which website do you like best for creating fun fonts? Let us know in the comments below!
If you enjoyed this post, then you might also like:
Joana Regulacion is a proud wife, mother, and furparent. Joana loves writing blog posts because it helps her learn new things. She also conducts lectures for aspiring teachers who are reviewing for the Licensure Examination for Teachers, but enjoys working from home to be closer with her family.