If you're a bookworm, you know how it feels to always want a book (or four) at arm's reach, whether you're reading in bed or on the go. eReaders allow you to do just that.
But with the number of eReaders now available, choosing one can be daunting. What are the differences? Which one is best for you? Read our list below to find out and never be without a book again.
Best eBook Readers
There's an eReader for everyone. Here is our list of the best ones.
1. Amazon Kindle
The original Amazon Kindle is purpose-built for reading. Its built-in front light and e-ink technology make it easy on your eyes, eliminating the strain that comes with reading on a screen. You can highlight passages, look up definitions, and adjust the size of the text to your liking. It's the least expensive version of the Kindle, but it's still sleek and easy to use.
Price: starting at $59.99
Screen size: 6 in.
Weight: 6.1 oz.
Battery life: up to 6 weeks
Best for: Those who are content with just the basics and don't need a lot of storage.
2. Amazon Kindle Oasis
The Amazon Kindle Oasis is Amazon's top-of-the-line e-reader. The large, high-res screen reads like paper, and it's lightweight enough to hold in one hand.
The Kindle Oasis is fully waterproof and comes with a built-in, auto-adjusting front light, allowing you to read easily in any setting, including bright sunlight. You can also choose to add cellular connectivity, so you can download books anywhere without being connected to Wi-Fi.
Price: starting at $249.99
Screen size: 7 in.
Weight: 6.8 oz.
Battery life:  up to 6 weeks
Best for: Commuters or travelers who don't have consistent access to Wi-Fi and/or want an easy-to-carry, lightweight e-reader; anyone who likes to use their e-reader in the tub or by the pool.
3. Amazon Kindle Paperwhite
The new Amazon Kindle Paperwhite is a great mid-priced e-reader. With a front-lit, waterproof, HD screen and optional cellular connectivity, you can read anywhere, anytime.
Like the Kindle Oasis, the Paperwhite works with Audible and Bluetooth, so you can listen to audiobooks on it as well.
Price: starting at $129.99
Screen size: 6 in.
Weight: 6.4 oz.
Battery life:  up to 6 weeks
Best for: Those who want to spend a little less on an e-reader while still getting many of the latest and greatest Kindle features.
4. Amazon Fire HD 10 Tablet with Alexa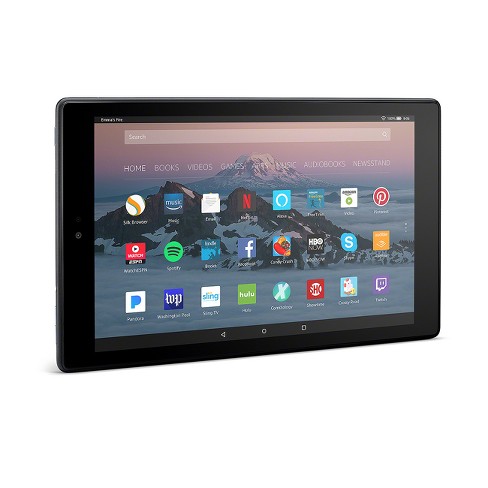 Amazon Fire HD 10 with Alexa features a vivid color display. In addition to e-reader capabilities, you can also listen to music, stream TV and movies, and play games—all of your entertainment in a lightweight tablet. When it's docked, it also becomes an Amazon Echo Show, Amazon's smart home assistant with a screen.
Price: starting at $149.99
Screen size: 10 in.
Weight: 28.8 oz.
Battery life: up to 10 hours
Best for: Anyone wanting their e-reader to pull double-duty as a versatile tablet as well as a smart home assistant.
5. Boyue Likebook Mars
The Boyue Likebook Mars has a large, high-definition screen that reads like paper. It also has a cool/warm light adjustment option for day and night reading. It boasts plenty of storage and a powerful processor that makes for a smooth user experience. You can also insert an SD memory card for extra storage, or to transfer books you already own onto the device.
Price: starting at $219.00
Screen size: 7.8 in.
Weight: 4.6 oz.
Battery life: up to 2 weeks
Best for: Those who want to break free of the Amazon ecosystem and use Google Play to install more apps.
6.
BOOX Note Air 10.3 
The BOOX Note Air 10.3 is the thinnest 10.3″ e-ink tablet with an adjustable front light. Annotate and write on over 20 file formats and add bookmarks so you can stay focused and take notes while reading.
Price: starting at $479.99
Screen size: 10.3 in.
Weight: 14.8 oz.
Battery life: up to 4 weeks
Best for: Students or others who want to write notes while reading.
The Best eReaders for You
Whether you're a student on a budget or a fervent note-taker, there's an eReader out there that's perfect for you.
Find the one that meets all of your reading needs so you never have to be without a book again.
What's your favorite e-book reader? Share your thoughts in the comments below!
If you liked this post, here are some other articles you might be interested in:
Tom Corson-Knowles is the founder of TCK Publishing, and the bestselling author of 27 books including Secrets of the Six-Figure author. He is also the host of the Publishing Profits Podcast show where we interview successful authors and publishing industry experts to share their tips for creating a successful writing career.