Book lovers share a common problem: we always seem to need more space for our beloved books!
As much as you may love Marie Kondo and all her minimalist principles, your heart is probably saying yes to minimalism in everything besides your favorite paperbacks. (After all, Kondo wants you to keep what brings you joy, and what can do that better than books?)
So, to make sure you don't drown in a pile of books, you'll want to have a solid system in place for keeping them organized.
14 Bookcases Under $200
Here are some of the best choices for cheap bookshelves:
1. BILLY from IKEA
Dimensions: 31-1/2 x 11 x 79-1/2"; 15-3/4 x 11 x 79-1/2"
Price: Starting at $39
IKEA's BILLY Bookshelf is one of the most popular around the world. Its customizable design, combined with its inexpensive price, means it can fit just about any space—and budget.
2. BILLY Bookcase with Glass Doors from IKEA
(Edit: Currently Unavailable)
Dimensions: 31-1/2 x 11-3/4 x 79-1/2"
Price: $169
If you don't want open shelves, check out these BILLY Bookcases with Glass Doors—don't the glass doors add a touch of class to any library?
3. HEMNES from IKEA
Dimensions: 35-3/8 x 77-1/2"
Price: $149
This is another bookshelf option from IKEA. Although it's a bit more expensive than the BILLY, it's also more solid and can hold up a heavier weight of books.
4. LAIVA Bookcase from IKEA
Dimensions: 24-3/8 x 65"
Price: $19.99
If you want to display your books in some part of the house other than your dedicated library, the LAIVA Bookcase from IKEA lets you combine function and beauty. With a price of $19.99, this sturdy bookcase will make a good addition in your home office or living room.
5. GERSBY White Bookcase from IKEA
Dimensions: 23-5/8 x 70-7/8"
Price: $29.99
The narrow design of this 5-shelf bookcase is easy to fit in any corner of the house. The low price of $29.99 means you can actually get several of them and put them all together against one wall in your room.
6. 72" Carson 5-Shelf Bookcase from Target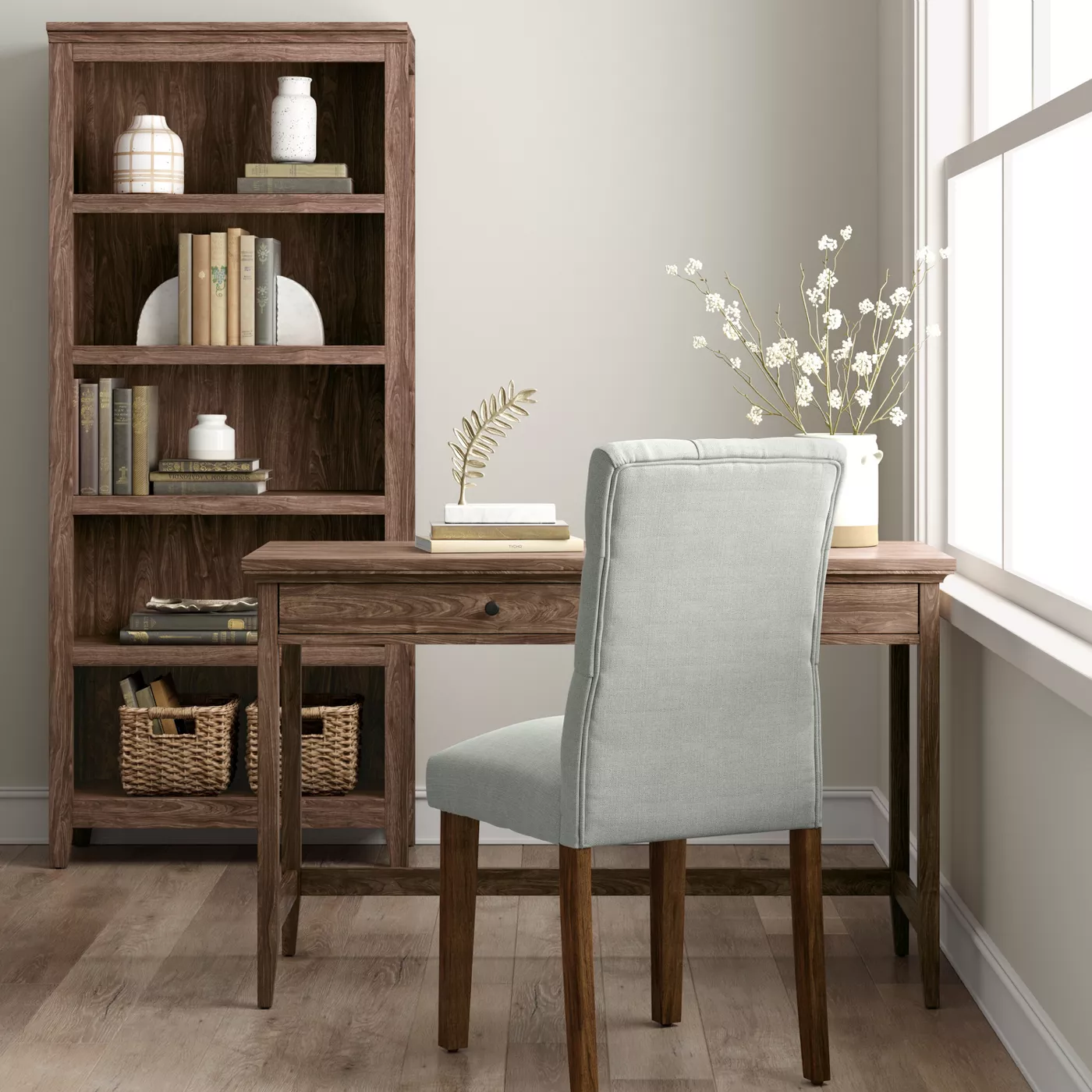 Dimensions: 30.6 x 13.6 x 72"
Price: $154.99
The Carson model, available at Target, is made of durable wood and its clean modern look makes it easy to mix with any decor in any part of your home.
7. 32" Carson Horizontal Bookcase from Target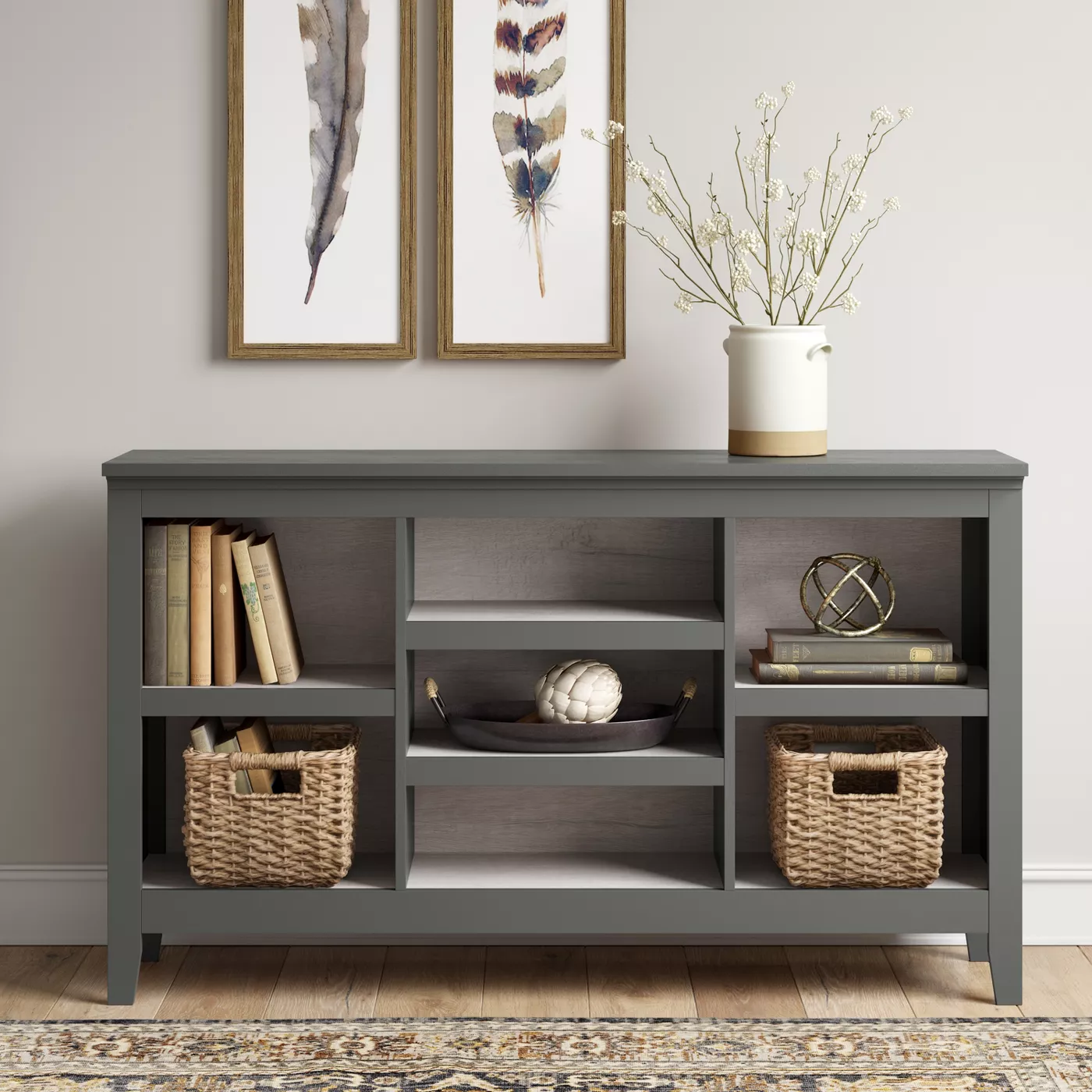 Dimensions: 53.9 x 13.6 x 32"
Price: $169.99
For a smaller collection of books to keep in your living area, the Carson Horizontal Bookcase, made of sturdy hardwood, is another great choice that can be yours for $169.99. Its adjustable shelves also give you the freedom to create any kind of look you want.
8. Room Essentials 3-Shelf Bookcase from Target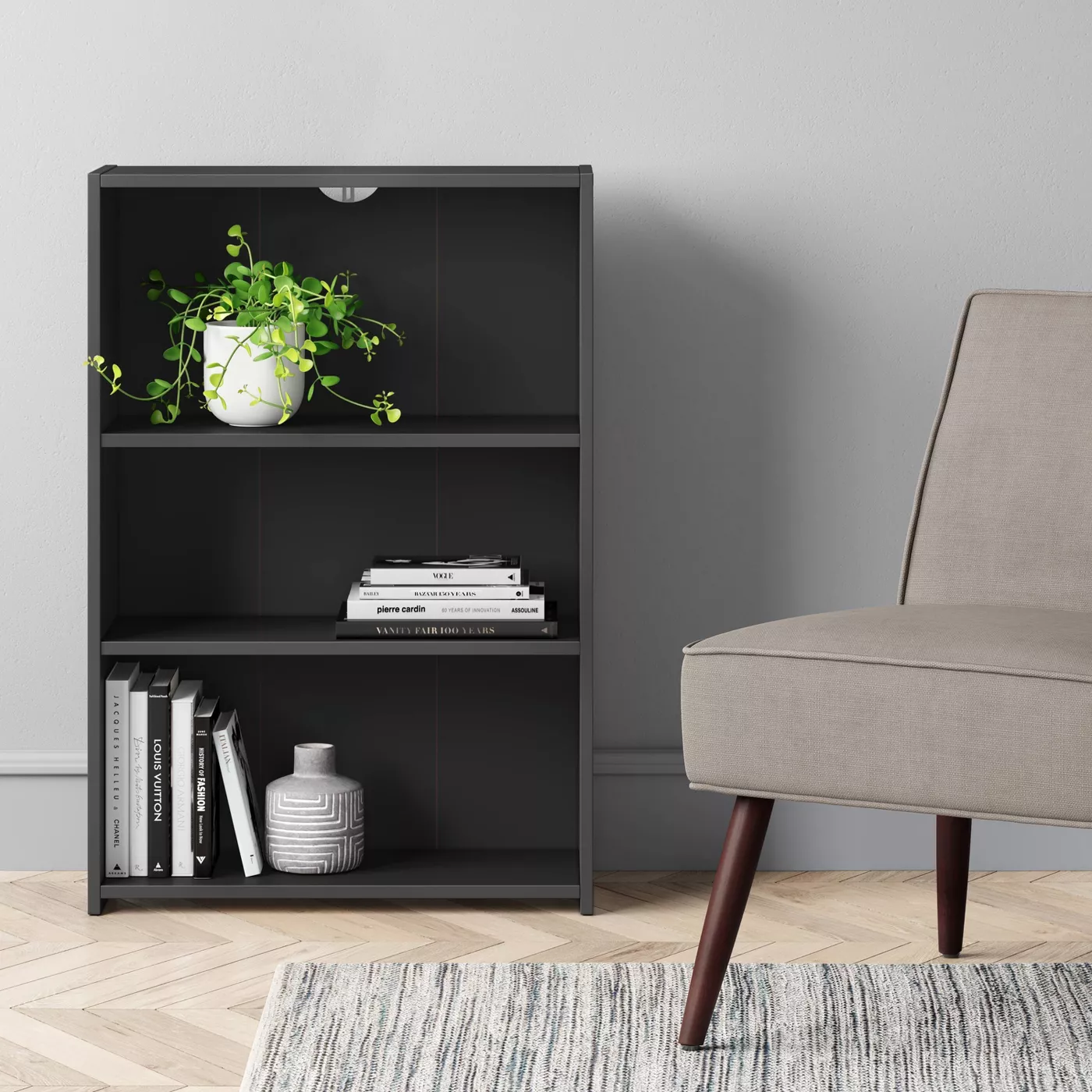 Dimensions: 24.5 x 9.45 x 35.98"
Price: $25
This smaller bookshelf made of wood composite and paper laminate can make an excellent bedside stand or addition to your living room or reading nook. With a price of only $25.00, you can also choose from three different colors: white, black, or espresso brown.
9. Java Solid Wood Stackable Folding Bookcase from The Container Store
Dimensions: 28 x 11-1/2 x 37"
Price: $79.99
If you want more customizable options, this stackable bookcase may be your best bet. You can buy one for $79.99, but you can also stack them to give you a taller, airy bookshelf. Thankfully, it's very easy to assemble, and you can fold it away when not in use.
10. Ameriwood Hayden 5-Shelf Bookcase from Staples
Dimensions: 27.44 x 11.75 x 71.5"
Price: $82
At only $82, this simple bookshelf with three adjustable shelves can help meet your basic book-organizing needs. Made of particleboard, the item is laminated with a woodgrain finish, and comes flat packed, but requires two adults to assemble.
11. AmazonBasics Modern 5-Tier Ladder Bookshelf Organizer from Amazon
Dimensions: 24.8 x 14 x 70.1"
Price: $
This ladder-style bookcase is a great way of displaying some of your favorite books along with other decorative items. Its descending design lets you store wider items at the bottom. Made of solid rubber wood, each shelf can hold up to 25 pounds.
12. ORE International 3-Tier Bookshelves from Amazon
Dimensions: 30 x 12.5 x 36"
Price: $139
At $139, this cute tiered bookcase will not only keep your books in place but also add a touch of style to any room. Of course, this will likely not be your go-to option to store all your books, but perhaps only for displaying some of your collection.
13. IRIS USA 3-Tier Wide Open Wood Bookshelf
Dimensions: 11.52 x 23.64 x 34.63"
Price: $40
The adjustable shelves let you fit any height of books in this easy-to-assemble bookshelf, which comes with a back panel to keep your items from falling out the back. With price starting at $40, this is a good option for adding book storage in different rooms in the house.
14. Mainstays 3-shelf Bookcase from Amazon
Dimensions: 24.8 x 11.65 x 31.65″
Price: $39
This 3-shelf bookcase will give any room a stylish feel while being fully functionally as a storage option for your books. The closed-back design will keep your books in place, and each shelf can hold up to 50 pounds. Price starts at P45.
Choosing the Right Bookshelves
Bookshelves are a book lover's best friend, but they're not always an ally to your wallet. The good news is, with all the options available these days, you don't have to spend a fortune on furnishing your home library.
When buying a bookshelf, here are some important considerations:
1. Is it within your budget?
When establishing your budget, consider the number of shelves you will need to house all your books. If you need three bookshelves and your budget is $600, each one has to cost $200 or less.
2. Does it look good?
Although appearances may not be a top priority, it would be nice if your home library could be as pleasing to the eye as it is to your soul. So if you can find inexpensive bookshelves that are Pinterest-worthy eye candy, why not?
3. Is it sturdy enough to hold your books?
Everyone has a different type of book collection. If you collect mostly paperback books, the kind of bookshelf you need will differ compared to if you collect mostly hardcover books.
4. Has it been reviewed?
You certainly don't want to invest money (even a small amount) in bookshelves only to have them fall apart shortly after, so it's wise to check out real customer reviews, whether from people you know or from online reviews.
Where Can You Buy Cheap Shelves?
Although buying cheap bookshelves can sometimes be a hit-or-miss, some sources are more reputable than others.
Some of the most popular stores where you can find reliable but affordable bookshelves include:
How Do You Make Cheap Bookshelves?
Retailers like Ikea and Target aren't your only options when it comes to cheap bookshelves. You can also take matters into your own hands with a fun DIY project!
Simple Wood Project
This video by Home Depot will show you how to build your own wooden bookshelf to hold all your precious reads:
Open Bookshelf/Display Shelf
Meanwhile, this helpful video presented by DIY Creators will teach you how to make simple, elegant shelves for your library or living space:
Here are some more great links you can check out to help you make your own book storage systems:
Cheap Bookshelves for Book Lovers
Despite what you may have thought, adding new bookshelves to your home library doesn't have to make a huge dent in your pocketbook.
As long as you know exactly what you want, you can find creative ways to meet those needs through finding affordable options or even creating your own.
Did you find this post helpful? Let us know in the comments below!
If you enjoyed this post, then you might also like:
Yen Cabag is the Blog Writer of TCK Publishing. She is also a homeschooling mom, family coach, and speaker for the Charlotte Mason method, an educational philosophy that places great emphasis on classic literature and the masterpieces in art and music. She has also written several books, both fiction and nonfiction. Her passion is to see the next generation of children become lovers of reading and learning in the midst of short attention spans.